Using a Raised Toilet Seat is a simple way for those with limited mobility to feel more stable and secure.
FITTING OUR RAISED TOILET SEATS:
Our Enterprise toilet seat has a unique fixing bracket which secures under the existing toilet seat, so you don't need to remove the existing seat and allows the Enterprise to be clipped on and off in seconds.
The Nobi and Big John replace the original seat. These are easily fixed just like a regular toilet seat, using the two existing holes in the back of the toilet bowl.
All our other Raised Toilet Seats use brackets to hold the seat in place on the toilet bowl, which are designed to be tightened by hand.
For security, all our raised toilet seats are fixed directly onto the toilet pan, not fixed on top of the original seat. Clear instructions are included with the seat, but please always check that it is securely attached before you sit down.
Langham are acknowledged experts in raised toilet seats. We have a seat to suit almost every need, producing the widest range of seats of any manufacturer.
Toilet raisers come in three standard sizes:
- 2 inch (5cm)
- 4 inch (10cm)
- 6 inch (15cm)
Our range includes raised toilet seats that can be easily removed for cleaning, seats for bariatric or dementia care, and seats with arms or on a frame.
TO GET THE PERFECT POSITION: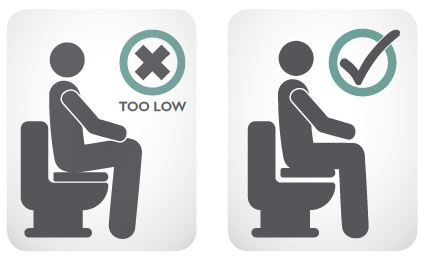 To get the perfect position, your knees and hips should be at the same height when sat on the toilet seat. A seat that is too low can be uncomfortable and more difficult to stand up from.
1. Measure the distance between the floor and back of the thigh, just behind the knee. This is the recommended seat height.
2. Measure the current height of the seat, and subtract from the first measurement.
3. The difference between the two is the measurement of raise required.